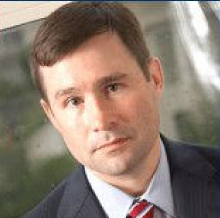 Tel: 502-882-6000
Fax: 502-587-2007
445 Baxter Avenue | Suite 275 | Louisville, KY 40204
$13 million Trial Verdict (Auto Accident/Wrongful Death)
$7.75 million Trial Verdict (Products Liability)
$5.75 million Settlement (Products Liability)
$5 million Trial Verdict (Auto Accident/Wrongful Death)
$1.75 million Settlement (Auto Accident)
$1.4 million Trial Verdict (Medical Malpractice)
$1.2 million Settlement (Auto Accident)
$1 million Settlement (Auto Accident)
$300,000 Trial Verdict (Premises Liability)
Larry spent nearly the first third of his career representing some of the largest companies in the world. Today, Larry uses his skill, experience and training to fight for real people, who have been seriously injured. As a result, Larry has tried numerous cases to a jury, accumulating record verdicts and hundreds of millions of dollars in settlements in the process.
In 2011, Larry founded JONES WARD PLC, a national class action and mass torts law firm. Larry has attained the prestigious Martindale-Hubbell AV® Peer Review Rating — An AV® certification mark is a significant rating accomplishment – a testament to the fact that a lawyer's peers rank him or her at the highest level of professional excellence. It is the highest rating a lawyer can receive.
Larry has been selected as one of the Best Lawyers in the United States (www.bestlawyers.com). He was also honored to selected as one of the "10 Best High Verdict & Settlement Personal Injury Attorneys" and one of the "10 Best Attorneys" in Kentucky. Larry has been selected as a Super Lawyer (www.superlawyers.com) for mass torts/class action, personal injury, product liability and political law—even achieving the coveted "Lawyer of the Year" award. Larry is a member of the Million Dollar Advocates Forum, having achieved numerous multi-million dollar results for his clients. Larry has also been selected by the National Trial Lawyers Association as one of the Top 100 Trial Lawyers in Kentucky. Moreover, Larry has been selected by Louisville Magazine as one of "Louisville's Top Lawyers" on several occasions. Larry was selected as one of "Kentucky's Top Rated Lawyers" as seen in the Louisville Courier Journal, Lexington Herald-Leader, The National Law Journal, The Wall Street Journal, The American Lawyer and Corporate Counsel Magazine.
Larry has appeared on CNN, ABC, CBS, NBC, FOX and local television outlets throughout the United States –and Larry was even featured on Germany's Frontal 21 investigative news program and on NBC's "Today" show. Additionally, newspapers around the world have published articles featuring Larry and his cases.
On November 4, 2009, Governor Steve Beshear appointed Larry to serve as a Special Justice on the Kentucky Supreme Court. Chief Justice Minton selected Larry to author the opinion of the Court, which was adopted unanimously by his fellow Supreme Court justices in 2011. Today, Larry's litigation practice focuses primarily on class action, mass tort (pharmaceutical and medical device injury) and personal injury cases. He handles all types of personal injury cases including defective products and drugs, wrongful death, auto accidents, tractor trailer accidents, motorcycle accidents, pharmaceutical injuries, nursing home negligence and other injury claims.
Larry has been actively involved in numerous multi-district litigation (MDL) cases, including  most recently MDL 2767, in which he serves as the court-appointed National Co-Lead Counsel. Additionally, Larry served on the Plaintiff's Steering Committee in the Biomet MDL 2391, and he served on the Plaintiff's Steering Committee in the Total Body Formula MDL 1985. Larry was also selected by lead counsel to assume an active role in the In re: Oil Spill by the Oil Rig "Deepwater Horizon" in the Gulf of Mexico on April 20, 2010 MDL 2179 litigation. Larry served as lead counsel on approximately 100 Reglan/Metoclopramide cases that he litigated in Philadelphia, Boston, St. Louis and Atlanta. Larry pursued both the generic drug manufacturers as well as the product education monograph (PEM) companies for failing to warn his clients about the dangerous tardive dyskinesia disease. Larry was co-lead counsel in a class action lawsuit in Kentucky and Florida against BP and the other parties responsible for the massive oil spill in the Gulf of Mexico — the worst man-made environmental disaster of our times. Along with a consortium of nationally-renowned mass tort attorneys, Larry has served as co-lead counsel in an antitrust class action lawsuit against Anthem Blue Cross & Blue Shield, a financial services fraud class action lawsuit against a university financial aid disbursement services company, a train derailment environmental class action lawsuit, and a FLSA overtime class action lawsuit.
Larry is a noted leader in both the business and the legal communities. In 2007, the Louisville Courier Journal's Velocity Magazine featured Larry as one of Louisville's "Generation Next." In 2005, Louisville's Business First publication selected Larry as one of the "Top 40 Under Forty" — an award bestowed upon the top 40 business leaders in the Louisville area under the age of forty. In 2010, Larry was selected as the Outstanding Young Professional Alumnus by the University of Kentucky College of Law.
Before law school, Larry served as the deputy to Kentucky Governor Paul E. Patton's Chief of Staff. Larry has served as General Counsel, Campaign Chairman, and Finance Chairman for numerous local, state and federal candidates and elected officials. A lifelong Southern Democrat by registration, Larry subscribes to a "middle of the road" political philosophy. Despite his registration, and perhaps due to his common sense approach, both Democratic and Republican elected officials regularly consult Larry as an informal legal and political adviser.
Larry earned his law degree from the University of Kentucky College of Law, graduating near the top of his class with Cum Laude honors. While in law school, Larry earned a position as an Associate Editor on the prestigious Kentucky Law Journal, was selected for the law school's Moot Court Board and was one of only two chosen to represent the law school on its National Evidence Moot Court Team. Larry's peers also elected him to serve as their class representative on the Student Bar Association. Larry received a CALI Award of Excellence for the Highest Grade in Insurance Law, which serves him well in his daily battles to get insurance companies to honor their commitments to compensate injured victims for their losses.
Larry's experience is broad. During his career, he has worked on matters involving wrongful death, class actions, nursing home negligence, defective products, medical malpractice, auto accidents, employment disputes (breach of contract, wrongful discharge, and non-compete agreements), employment discrimination, insurance practices and coverage (bad faith and contract disputes), consumer protection, business contract disputes, lender liability, letters of credit, financial advisor negligence, unfair competition, trade secrets, defective software, preferential transfers, creditors' rights, fiduciary disputes, False Claims Act/Qui Tam actions, planning and zoning appeals, fiduciary duty claims, and common law fraud. Larry's practice is national in scope. He has represented clients in state and federal court actions in almost every state.
Larry is admitted to practice in numerous federal and state trial and appellate courts across the country. Larry is frequently called upon by other lawyers inside and outside of Kentucky to submit amicus (or friend of the court) appellate briefs in support of their cases due to his expertise in product liability cases. Larry served three terms on the Louisville Bar Association's Board of Directors. He is the past Chair of the Louisville Bar Association's Litigation Section and its Young Lawyers Section. He is also actively involved in local, state and national politics.
ADDITIONALLY, LARRY HAS SERVED IN THE FOLLOWING LEADERSHIP POSITIONS:
American Association for Justice
Board of Governors
Leaders Forum Member
AAJ Political Action Committee Member
State Delegate
Membership Oversight Committee (Presidential Appointment)
Kentucky Justice Association (a/k/a Kentucky Academy of Trial Attorneys)
Board of Governors
Advocate's Club (KJA's highest level)
Legislative Committee
Membership Committee
Convention Planning Committee
University of Kentucky College of Law – Alumni Board of Directors (2001-2010) Louisville Bar Association -Board of Directors (2002, 2006-07) -Continuing Legal Education Committee (2002-07, Chair, 2006-07) Kentucky Bar Association -Young Lawyers Section (Executive Committee, 2002-2007) -Convention Planning and Continuing Legal Education Committee (2003) -Kentucky Lawyers Assistance Program (2002-present)
Larry teaches continuing legal education courses to other lawyers all across the country. Larry has been invited to speak at many of the most prestigious legal conferences for plaintiff lawyers. He has been a presenter or host at continuing legal education seminars on post-trial motion practice, mass torts, medical devices, Daubert practice, trial practice, technological battles in 21st century litigation, bad faith insurance practices, ethical litigation practice, law practice technology, e-discovery, federal court practice, expert witnesses, personal injury practice and personal injury damages. Larry has also authored numerous articles on mass torts, class actions, bad faith insurance practices, uninsured and underinsured motorists, and the Kentucky Supreme Court.
Larry is also a member of the Southern Trial Lawyers Association and the National Trial Lawyers. Larry donates a significant amount of money each year, both to organizations and individuals alike. Larry has volunteered in a number of civic and community activities, including with the Louisville Legal Aid Society Volunteer Lawyer Program, The Healing Place (an alcohol treatment and residential program), and the Louisville Bar Association's Call-A-Lawyer Program. Larry also served as a member of the Clothe-A-Child, Inc. Board of Directors.
Larry was appointed by Governor Steve Beshear to serve as a Board member on the Kentucky Higher Education Assistance Authority and the Kentucky Student Loan Corporation, which services approximately $8.1 billion worth of student loans. As someone who financed his way through college and law school using student loans, this is a cause near and dear to Larry's heart.
Larry is also a recovering alcoholic, with over 20 years of sobriety. He devotes much of his time and energy speaking to recovering addicts and offering guidance and support for those battling addiction.
In his "spare time," Larry spends time with his family and tends to his farm in La Grange, Kentucky, where he breeds, raises, and races thoroughbred racehorses.