Surgery Warming System Infections Lawsuits
Many people who had a hip replacement or knee replacement surgery within the last 5 years have suffered serious infections afterward. The attorneys at Jones Ward are investigating claims from patients who had a forced air warming blanket used during surgery that could have caused serious infections, including MRSA, sepsis, deep joint infections, and more. The warming blanket is manufactured by 3M and call the "Bair Hugger." Many lawsuits have already been filed to address these serious infections. Our national lawyers are currently accepting clients from across the country to hold 3M accountable. Call us today for your free consultation toll free at 888-595-2922.
What is a Forced Air Warming Blanket?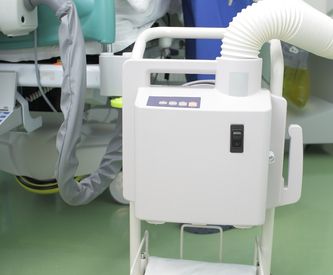 The 3M Bair Hugger is used to maintain normal body temperature during surgeries. It works by connecting a portable heater and blower with a hose to a disposable body blanket that surrounds the patient's body. Hot air is blown onto the patient's skin that way to maintain body temperature. Keeping a warm body temperature during surgery is helpful because it can result in faster recovery time, less bleeding, and more. It has been used on more than 165 million patients and about 80% of United States hospitals have them. This system is considered mainstream.
Forced Air Blanket Complications
While the forced air blanket helps maintain body temperature, it can come at a high cost to patients. Those treated with the 3M Bair Hugger can be exposed to contaminated air from operating rooms. The system allows air to accumulate and escape below the surgical table. The escaped air can cause contaminates to become airborne, and can also create a current that deposits bacteria from the operating room floor back into the blanket and the patient's surgical site.
One lawsuit already files alleges that the forced air warming system kicked up so much bacteria from the floor during his surgery, that he required 15 additional surgeries due to infection and eventually had to get his leg amputated!
3M Bair Hugger Side Effects
The main side effect from the 3M forced air system is infection from bacteria and contaminates in the operating room. This might result in a number of different complications for patients, including:
Severe pain and suffering
Repeat Hospital Stays
Additional Surgeries
Amputation of Limb
Physical Therapy
Revision or Removal of hip implant or knee implant
Antibiotic Treatment Therapy
Physical Therapy
And More!
3M Responsibility for Infections
While there are always risks in surgeries, this was a risk that 3M knew about for years but did not warn doctors or patients. They did not take any steps to re-design the Bair Hugger also to limit or resolve the infection risks either. It is alleged that 3M deliberately hid information from the public in order to make more money, putting their profit margin above the health and safety of consumers.
Doctor Who Invented the Bair Hugger Says It's Not Safe!
Even the doctor who invented the 3M forced air heating system has publicly told doctors to stop using the device during joint replacement surgeries. One study found that air circulated by the forced air warming blankets contains 2,000 more contaminates when compared to other options.
Contact Our Lawyers for a Free Consultation
If you or a loved one had a hip implant surgery or a knee implant surgery and suffered from a serious infection afterward, please contact us. We want to hold 3M accountable for putting profit ahead of health and safety. We are a national firm and offer free consultations to discuss your legal rights and options. Call us toll free today at 888-595-2922 or send us an email.